Abandoned trolleys charge in North East Lincolnshire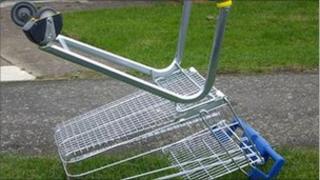 A council is set to charge supermarkets in North East Lincolnshire £75 for each abandoned trolley it recovers.
The authority has voted to adopt powers allowing it to charge stores every time for the cost of collecting and returning discarded trolleys.
It comes after the council saw a rise in the number of abandoned trolleys, collecting 380 last year.
The charge will be introduced in July to give businesses time to introduce measures to tackle the problem.
Councillor Peter Burgess, portfolio holder for the environment and the green agenda, said: "They pollute our waterways, play areas and parks and often get into the hands of people who use them antisocially, which causes further problems for our neighbourhoods.
"Whilst we recognise some businesses do take measures to prevent trolleys being taken off their premises, others are not and it is the antisocial effect of abandoned trolleys that cause more problems.
"It adds to the neglected look of an area and costs the taxpayer money to deal with the removal of the trolley and tackle the antisocial element that seems to be associated with their misuse."