Saltend Chemical plant workers face 'uncertain future'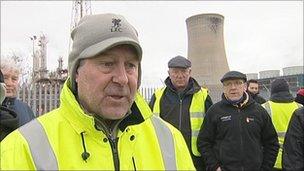 Hundreds of engineering workers are facing an uncertain future after a major contract between two firms in East Yorkshire was terminated.
People working for Redhall Engineering Solutions (RES) had turned up for work as usual on Tuesday expecting to work at Saltend Chemicals plant near Hull.
But Vivergo Fuels which runs the plant has cancelled the contract with RES saying the project is behind schedule.
RES was unavailable, but the GMB union said the situation was "uncertain".
The GMB union said hundreds of men did not know whether they had a job or not.
Vivergo issued a statement saying they had cancelled the mechanical and piping works contract because the works "should have been completed by February 2011".
The statement went on to say those works were "only 69% complete" and the construction site at Saltend had been closed for a period of assessment.
Keith Gibson, from GMB, said people working for RES had been told to attend work as usual, but then had not been transported to the Saltend site as usual.
He said: "The company have contacted all their employees to advise them to attend for work this morning.
"When they've got to the car park [to await transport] there has been no buses to take the workforce on.
"As far as we're aware, the Redhalls contract has ended at the Vivergo Fuels project.
"This leaves about 400 men unaware of whether they are going to be in work tomorrow, next week or the week after."
On 3 March contractors employed by Redhall Group blockaded the entrance to the Vivergo Fuels site at Saltend after 15 redundancies were announced.
They disputed Redhall's claim the lay-offs were carried out in line with an industry-wide agreement.
However, a planned second day of action was called off after unions and management reached agreement.
Related Internet Links
The BBC is not responsible for the content of external sites.