Full Sutton inspection: segregation unit regime 'inadequate'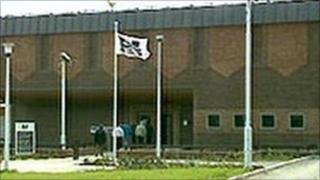 An inspection at a high security jail has criticised the treatment of some of Britain's most dangerous prisoners.
Inspectors who visited Full Sutton prison near York in November said the regime in the jail's segregation unit was "inadequate".
But they said that, overall, staff were "to be commended on their work in very challenging circumstances".
The report also praised rigorous security procedures, which it said were proportionate to the risks faced.
The report, published by the Chief Inspector of Prisons on Tuesday, stressed that since its last inspection in 2007, Full Sutton had "made significant progress but some concerns remain".
'Confused approach'
It was written after an unannounced inspection carried out between 27 October and 5 November.
The report said: "While we were satisfied that a sharp increase in recorded use of force was explicable and justified, we had some concerns over some arrangements for dealing with the most challenging and difficult prisoners.
"Thus the regime in the segregation unit was inadequate and there continued to be a confused approach to behaviour management."
The inspectors said they were not confident that use of special accommodation and mechanical restraints were always appropriate.
Although relationships between most staff and prisoners had improved since the previous inspection in 2007, the prison "needed to address the negative perceptions of Muslim and black and ethnic minority prisoners", the report said.
Safety arrangements had improved, with better management of early days in the prison, satisfactory suicide and self-harm prevention work and more robust anti-violence work, the report said.
'Essentially positive'
As a result, most prisoners reported feeling safe.
"This is an essentially positive report on a high security prison tasked with holding some of the country's most serious and dangerous offenders," the inspectors said.
Michael Spurr, chief executive of the National Offender Management Service, said: "It demonstrates that the governor and staff at Full Sutton are managing long-term prisoners very effectively on behalf of the public.
"Significant progress has been made since the last inspection in the areas of safety, purposeful activity and relationships between staff and prisoners all having improved.
"Work is in hand to address the other issues raised by the inspection."
Last month a 35-year-old man was charged with killing inmate Colin Hatch at Full Sutton. Hatch had been serving a life sentence for killing a seven-year-old boy.