Hull receives no applications for royal street parties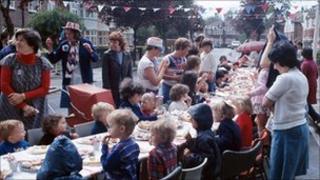 Hull City Council has said it has not received a single application to hold a royal street party.
The marriage of Prince William and Kate Middleton takes place on 29 April.
Nearby East Riding of Yorkshire Council said it had received 12 applications. One councillor blamed the "uncertain weather" for the lack of interest.
Councillor Matthew Grove, who is responsible for highways in East Riding. said he felt the parties would help to build community spirit.
"It's a long-standing British tradition to have community celebrations, village fetes, church fetes, and I think it is something that we should return to, to encourage," he explained.
"I think it helps to build community spirit, community resilience."
Hull City Council is expected to comment further on the lack of applications later.
Many local councils have waived the usual processing fee in an effort to encourage residents to hold parties.
The deadline for East Riding Council permits is on Friday, although other authorities will allow applications until early April.
One woman who is determined to mark the day is Susan Johnson from North Frodingham, in the East Riding of Yorkshire.
She is organising the village's festivities and said she was inspired by childhood memories of the Queen's Silver Jubilee in 1977.
"Everyone I have spoken to thinks it is a fantastic idea. It will help make the children more aware of the Royal family.
"I remember when I was eight in Bradford celebrating the Queen's Silver Jubilee.
"The women brought out picnic tables and food there was bunting and Union Jacks and house windows were open with music blasting out.
"It was a good atmosphere."