Inquiry into Humber Bridge toll increase plan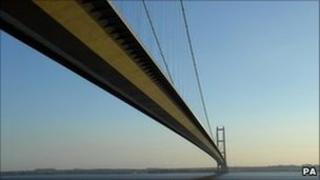 An inquiry is considering plans to increase the Humber Bridge toll by 30p.
The Humber Bridge Board has applied to the Department for Transport (DfT) to raise tolls by 11% from £2.70 to £3 per crossing to pay back its £330m debt.
The three-day inquiry in Hull is looking at objections from groups such as Humber Action Against Tolls.
It said the increase would not clear the debt. The board said it needed the increase to be approved but would not necessarily implement it.
Councillor David Gemmel, chair of the Humber Bridge Board, said: "We need the money to pay the debt back, we have a third of a billion debt and we have a legal obligation to pay that back.
£2.2m shortfall
"We need to have the option of putting the increase up, if we get the approval to increase the tolls, we may not have to put it up, but we need to be in a position to increase it."
Mr Gemmel said if the increase was not approved the board would have a £2.2m shortfall on repayments this year.
Jen Bolton, from Humber Action Against Tolls, said: "When we had the last public inquiry there was a debt and the figure was given.
"The figure is still exactly the same. They can put the toll up and what can it do? It can chip away at some of the extra debt, but it's not going clear it."
The DfT and Treasury are currently investigating tolls and the implications on transport and the Humber economy.
It follows a report compiled by Hull City Council, North Lincolnshire Council, North East Lincolnshire Council and East Riding of Yorkshire Council which found that abolishing tolls would boost the region's economy by £1bn over 25 years.
The inquiry is being held at The Village Hotel.