Humberside Police cuts 142 jobs as it makes £30m savings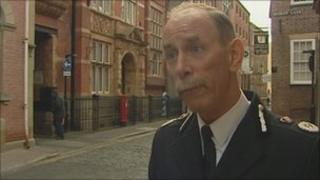 Humberside Police is to cut more than 140 jobs in the next year, the force has confirmed.
Humberside Police Authority approved plans to make savings of £30m by 2016 with £5m to be saved next year.
The force said the 142 positions would be lost through voluntary redundancies.
Chief Constable Tim Hollis said the reduction in staff would "unavoidably have an impact on how operational policing is delivered".
He said that despite the cuts he needed to ensure the public was protected.
Pay freeze
"A lot of the higher level risk - serious organised crime, counter-terrorism, internet paedophiles - they're dealt with by experienced and skilled investigators working on IT behind the scenes so I've got to meet all those risks and try and protect the community from all those harms," he said.
The new budget includes a two-year pay freeze, using £6m from its bank reserves and sharing resources with other police authorities where possible.
Chris Matthews, chair of Humberside Police Authority, said: "Currently we're looking at scientific services, fingerprinting and things like that.
"We're also looking at procurement where we hope to make significant savings that can be delivered on a regional basis unlike neighbourhood policing teams that deliver locally."
New headquarters
Despite the cuts the force plans to go ahead with building new headquarters in Hull to replace the facilities at Queen's Gardens at a cost of £32m.
Mr Hollis said: "The facilities from prisoner handling and safe keeping at Queen's Gardens are dire, both the people who come into our custody and my own staff are at risk if the facilities aren't good."
When the proposals were revealed earlier in the month, Diana Johnson, Labour MP for Hull North, expressed concern about the speed and scale of the cuts.
She said: "Humberside has already seen a fall in police numbers in recent months. But with the heaviest government cuts still to take effect this is just the thin end of the wedge."
Additional cuts are expected in subsequent years, starting with a further £11.1m in 2012/13.