Scunthorpe Leisure Centre to be demolished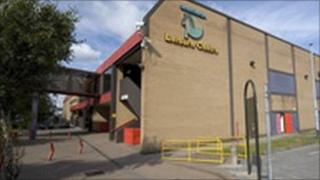 Councillors in a North Lincolnshire town are set to approve plans to demolish a leisure centre and use the area as "prime development land".
The 27-year-old building on Carlton Street in Scunthorpe is to be knocked down in the autumn as part of the town's regeneration.
North Lincolnshire Council said it had reached the end of its useful life.
Council officials said there had been interest in the site from retail and commercial firms.
'New jobs'
Staff working at the leisure centre will be moved to a new centre on Ashby Road called The Pods, which is due to open during the summer.
Councillor Mark Kirk, the leader of North Lincolnshire Council, said the site offered an opportunity to attract investors.
He said: "The site where the current leisure centre sits on Carlton Street offers prime development opportunities and will help regenerate the town centre - creating nine new jobs and bringing a major boost to Scunthorpe.
"It is right next to the recently revamped Church Square and the award winning 20-21 visual art centre.
"So plans to develop this area will complement the work that has already taken place."