Hull agrees Kier and KWL will carry out homes repairs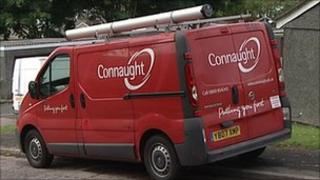 City officials in Hull have confirmed that two firms will take over the maintenance of council houses following the collapse of a former contractor.
Almost 130 people lost their jobs after contractor Connaught, went into administration in 2010.
Kingston Works Ltd (KWL) and Kier will take over the work.
The council said it had "reviewed the business cases" supplied by both organisations and had signed a "decision record to proceed".
People working for Connaught were previously transferred to the two companies, but unions had feared terms and conditions would be changed.
'Tenants' benefit'
In a statement, the council said: "We have reviewed the business cases supplied by Kier and KWL to deliver the repairs and maintenance on council houses, formerly carried out by Connaught.
"We would like to thank the companies for their work on this and the patience of the workforce involved.
"We look forward to seeing the contract being fulfilled to the benefit of our tenants."
The council had previously said it was down to the firms to clarify the issue of terms and conditions with the workers.
After Connaught's collapse the contract was transferred by Hull council to Lovell Partnerships in September.
The council's cabinet then reversed that decision in December and decided to split the contract between KWL and Kier.