North Lincolnshire youth offending work criticised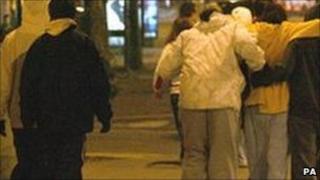 Work to tackle youth offending in North Lincolnshire needs "drastic improvement", the chief inspector of probation has said.
A report into the services in the region found half of the screenings for the risk of serious harm posed by children and young offenders was wrong.
Inspectors also found risk to victims and the offenders' previous behaviour were not always fully considered.
The council's Youth Offending Board said an improvement plan was in place.
The report examined a sample of youth offending cases from the area in October 2010.
Work being done to protect the young person, action to protect the public and the likelihood of reoffending were all assessed.
Inspectors found only 51% of the screenings for a risk of serious harm were accurate and of the 15 full assessments completed on time, only four were good enough.
They added that the risk of harm had not been effectively managed in seven out of 10 cases and reasonable action had not been taken to keep a child or young person safe in 13 out of 20 cases.
Insufficient assessment and planning, a lack of referrals and inappropriate intervention were all to blame, inspectors said.
The inspectors' findings were among the worst in England and Wales, with low scores in three key areas.
'Rigorous' plan
The North Lincolnshire team scored 37% for its work to protect young people, compared with a national average of 67%.
Its work to protect the public was 36% compared with an average of 62%, and its work to reduce reoffending scored 43%.
Chief inspector of probation Andrew Bridges said: "Overall, we consider this an extremely disappointing set of findings."
He added that this was particularly disappointing because of recommendations around diversity, the assessment and management of risk of harm to others, and vulnerability made in the last inspection in January 2008.
Improvement programme
Ch Supt Pete Simmonds, chairman of North Lincolnshire Council's Youth Offending Board, said: "We are disappointed with the findings and we acknowledge that improvements need to be made.
"The Youth Offending Management Board is addressing this and in August 2010, we put a rigorous improvement plan in place and have already seen many improvements since the inspection."
He said these included a new management team and a training programme for all employees.
A Ministry of Justice spokeswoman said: "We are working with the local authority on a significant programme of improvement, including in staff and management training."