Trees planted in Hull to mark Holocaust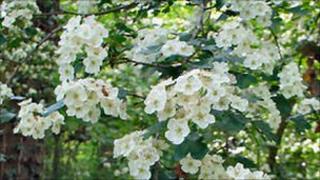 Hundreds of trees are to be planted across Hull by schoolchildren to mark Holocaust Memorial Day.
More than 400 native British species have been donated by the Woodland Trust to the city council to commemorate the day.
The trees will be distributed to schools in the city and 100 trees will be planted in East Park.
The species are designed to offer year-round colour and include field maples, hawthorn, hazel, birch and cherry.
The Lord Mayor of Kingston Upon Hull and Admiral of the Humber, Councillor David Gemmell, said it was a thoughtful way to improve areas.
He said: "Planting trees is an inspiring and poignant way to mark Holocaust Memorial Day as well as improving the area with trees that will last for years to come.
"Alongside creating a lasting tribute to commemorate the victims of the Holocaust and recent genocides, the tree will also act as a symbol of hope for the future, one in which these terrible atrocities will never be repeated."
Holocaust Memorial Day is held on 27 January each year.