Closure threat for council-run disabled centre in Hull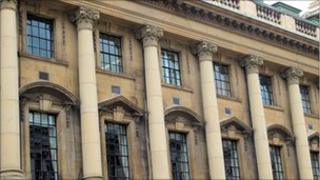 A centre which provides employment for disabled people could be forced to close if council funding is withdrawn.
The union Unite said the closure of B-line in Hull would be a "massive blow" to workers who were being given skills "to make their way in the world".
The council-run centre provides training and employment for disabled adults.
Hull City Council said nothing had been finalised and the proposed closure was part of its budget consultation.
Unite said the centre required funding of £900,000 a year.
It provides employment for about 25 adults who are trained to build kitchen units to be used in local authority housing.
Precautionary measure
Ian Wood, Unite regional officer, said: "This Liberal Democrat council is attacking the most vulnerable in society."
He added: "We will be doing everything possible to keep B-line open and we call on the local community to oppose this attack on people with disabilities."
Hull City Council said a final decision would be made at a meeting on 24 February.
A statement said: "As part of our budget proposals we are reviewing services across the council.
"As a precautionary measure we have had to give some staff notice, because we cannot guarantee funding after this period.
"As a responsible employer we want to give people as much notice of this as possible, and we are hoping to minimise the need for any compulsory redundancies by running another voluntary early termination (VET) programme."