Bridlington fish and chip shop wins UK's best title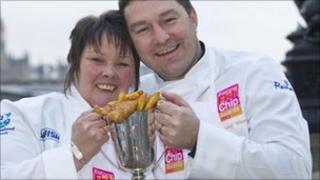 An East Yorkshire fish and chip shop has been named the UK's best - the first establishment outside Scotland to win the title since 2006.
Fish and Chips at 149 in Bridlington was crowned at the 23rd annual National Fish and Chip Awards.
Owners Matthew Silk and Tracy Poskitt received the award from food critic Jay Rayner at a ceremony in London.
Ms Poskitt said: "To take home the highest accolade in the fish and chips industry is a dream come true."
She and Mr Silk opened the restaurant in 2008 after overhauling the premises.
British institution
"We've been working for many years to reach these heights and owe this award to our dedicated team and loyal customers whose support has made this possible," she said.
"Fish and chips have been a British institution for 150 years and we are ecstatic to be taking our place in the proud history of this national dish."
Shops from all over the country were judged on responsible seafood sourcing, customer service, food hygiene, staff training and community spirit by seafood authority and award organisers Seafish.
Andy Gray, customer development manager for Seafish, said: "Fish and Chips at 149's success is testament to the shop's unwavering quality and hard work.
"They have an amazing team, with a very strong focus on staff training and development, and are very deserving winners."
Peckish in Camelford, Cornwall came second and Seniors at Marsh Mill in Thornton, Lancashire, third.