Thousands of jobs created in Hull turbine plant plan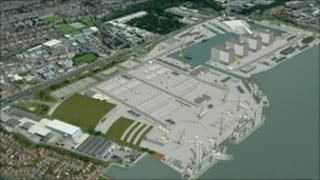 A major offshore wind turbine manufacturing plant looks set to be built in Hull, bringing up to 10,000 jobs to the city.
Engineering conglomerate Siemens and port operator Associated British Ports (ABP) have agreed to develop plans for the facility at Alexandra Dock.
Hull council leader Carl Minns said it would bring a "new era of prosperity for the region".
The two companies hope to sign definitive agreements this year.
Mr Minns said: "Today's announcement is a massive deal for Hull and we are delighted that Siemens have chosen the city as their preferred place to invest.
"The council will move heaven and earth to make sure local people have the access to the training and development they will need to have the skills for the jobs coming to the city."
MPs' support
Mark Jones, the authority's head of economic development and regeneration, who is leading the council's project team, said a full team had been put in place to work alongside the two firms to "ensure the necessary permissions are in place in the shortest possible timescale".
Graham Stuart, MP for Beverley and Holderness, said: "This is fantastic news and shows just how well placed Hull and the East Riding is to become the heart of the green energy revolution in this country.
"Today's announcement is, however, just the first hurdle and now the real work has to start.
"Both myself, and the other MPs in the area, will now work hard to make this a reality."
Business Secretary Vince Cable said: "This announcement by Siemens and ABP is a real vote of confidence in the future of offshore wind energy.
"I'm pleased Siemens has recognised the great potential of the UK and is pressing ahead with this project to create a world class centre of wind turbine production in Hull."