Teeth-whitening warning issued in East Yorkshire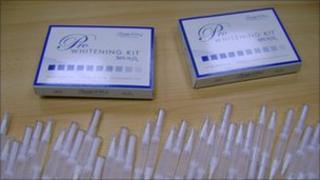 A warning about teeth-whitening has been issued in East Yorkshire after damaging levels of hydrogen peroxide was found in some products.
Trading Standards found some beauticians and dentists using products containing 360 times the level of the chemical permitted for use.
The legal limit of hydrogen peroxide in a tooth-whitening product is 0.1%, but some products have been found with 36%.
Trading standards said excessive levels could damage teeth enamel.
Cosmetic product
Colin Briggs, from East Riding of Yorkshire Council's trading standards team, said: "While dentists and beauticians are professionals in their area of work, use of products containing in excess of 0.1% hydrogen peroxide is not permitted.
"Anyone involved in the business of tooth-whitening should, for the safety of their clients read the ingredients label on any product they propose to use before applying it to teeth.
"If it contains excessive amounts of hydrogen peroxide it must not be used."
Tooth-whitening products used by dentists are currently classed as a cosmetic product, not medical.
Councillor Jane Evison said: "It is good news that more people are interested in taking greater care of the appearance of their teeth, but whiter teeth should not be to the detriment of their health and wellbeing."
The General Dental Council and the British Dental Association have been informed about the illegal products.