Grimsby People's Park tree attacks blamed on men with dogs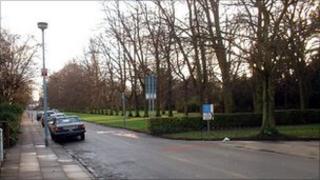 Two men who were seen encouraging their dogs to damage trees in a Grimsby park are being sought by police.
The incident is the latest in a series of attacks which have left dozens of trees damaged in People's Park.
On Tuesday, park staff told police that two men with Staffordshire bull terrier-type dogs had encouraged their animals to attack six lime trees.
The latest attack comes after damage was caused to a large number of trees in the park before Christmas.
'Deliberate vandalism'
Due to the extent of the damage caused, many of the trees cannot be saved.
The damaged trees include holly, cherry, yew, rowan, lime and Lombardy poplars.
Sgt Jamie Steel, of Humberside Police, said: "We are treating these deliberate acts of vandalism very seriously and are very keen to identify the suspects responsible for these incidents.
"The park is there to be used and enjoyed by everyone and this type of activity will not be tolerated.
"We are working closely with our council partners and have already had information from the public relating to the most recent incident, but are appealing to anyone who may have witnessed such an act to come forward."