Humberside Police young drink-drivers 'concern'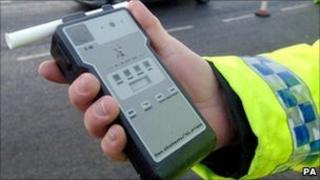 Humberside Police have expressed concern at the number of young people found to be over the limit during the Christmas drink driving campaign.
Figures released on Saturday show that of the 1,581 under 25s tested, 83 failed or refused a test.
That represents 5.2% of all those breathalysed, compared to only 3.2% of those aged 25 and over. Of the 5,767 over 25s tested, 187 failed or refused.
The figures are for the period from 1 November 2010 to 1 January 2011.
A Humberside Police spokesman said: "Of most concern was the number of young people under the age of 25 years who were found to be over the legal limit."
However, the force said that overall the failure rate in its area during the campaign was 3.7%, lower than the national average of more than 4%.
Ch Insp Darren Downs, head of Humberside Police roads policing, said: "Whilst the low number of offenders is encouraging, we cannot be complacent and Humberside Police will continue to positively enforce all drink/drug drive laws positively all year round.
"That said, the motorists of the Humberside region should be commended for the largely responsible attitude shown towards drink driving this year.
"We hope that the combination of targeted intelligence-led enforcement, education and awareness-raising will keep these figures on a downward trajectory."