Driffield woman takes husband's ashes to court in urn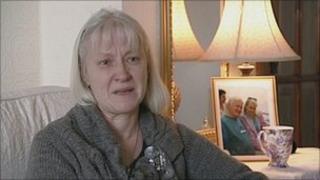 The widow of a man who died after his car was hit by a motorist on the wrong side of the road has spoken about why she took his ashes to court in an urn.
Phil Cain, 66, died in the incident on the A166 Driffield to York road on 5 February 2009.
Alyson Cammish, 47, admitted causing death by careless driving at Hull Crown Court last week.
Julia Cain told BBC Look North that taking her husband's ashes with her had given her the strength to sit in court.
Mrs Cain, 52, of Driffield, who sat in the court room with the urn on her lap, said: "He was a granddad, and he was a husband. I miss him every single day. Every day is like the 5th of February to me."
She added: "I promised that no matter what he would be coming to court with me. And that's why I felt a calmness.
"It made a lot of difference to me. I just held him in my arms. I got a sense of confidence, not to do anything or say anything in the court room, and that's what held me together. Just to be with him."
Ms Cammish, 47, of Full Sutton Airfield, Pocklington, will be sentenced at Hull Crown Court on 18 February.