Humberside Fire Service in cigarette warning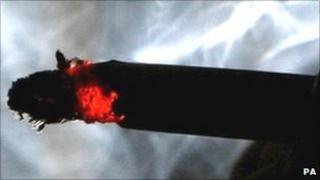 Humberside Fire Service has warned of a "huge increase" in the number of fires being started by discarded cigarettes.
Ten people died in house fires in East Yorkshire and northern Lincolnshire last year, the brigade said.
They included three children who died at their home in Bridlington in November after a fire which is believed to have been started by a cigarette.
A brigade spokesman said: "We've seen a huge increase in fires started by carelessly-discarded cigarettes."
Humberside Fire Service area manager Mark Rhodes, who is the brigade's head of community protection, said the problem of discarded cigarettes was currently its biggest challenge.
Rapid spread
"Despite our ongoing efforts to educate people about the dangers of fire there is still much more to be done to prevent people from dying in their own homes," he said.
"We cannot emphasise enough the need to take greater care with cigarettes."
He said if they came into contact with furniture, bedding or other flammable goods cigarettes would almost certainly cause a fire.
"The danger, however, is that cigarettes smoulder for some time before developing into a really serious fire," he said.
"During this time it is likely that the residents may have gone to bed or fallen asleep or are perhaps unable to do anything about it themselves.
"This allows the fire and smoke to rapidly spread through the property leaving everyone at serious risk of dying in their own home."
He urged people to look out for relatives and neighbours by looking for early signs of discarded cigarettes such as burns in furniture, bedding or clothes.