Cleethorpes salt marsh removal work begins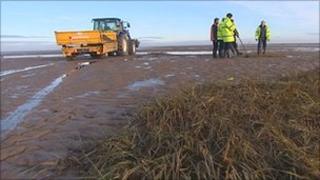 Work to remove a large area of creeping salt marsh grass from the beach at Cleethorpes has started.
Local residents and businesses had feared the marsh could affect tourism if it was not contained.
A management plan was agreed last month after lengthy talks between the council and conservationists, who want to protect coastal biodiversity.
From Thursday, council contractors began removing the grass on the north side of Cleethorpes Leisure Centre.
It will be left to grow south of this area in order to protect the biological diversity of the Humber estuary as part of the agreement with conservation body Natural England.
Peter Burgess, portfolio holder for environment and the green agenda at North East Lincolnshire Council, said: "We are very pleased that we have been able to come to an agreement with Natural England.
"It means we are able to protect the area's tourism industry, which we are so reliant on, but also through this plan we can protect the important biological diversity of the Humber estuary."
The council said the initial removal of the salt marsh would be carried out manually.
But it added this technique would be evaluated and if it proved unsuccessful or inadequate, removal by mechanical means would be investigated.