Hull City Council to axe up to 1,400 jobs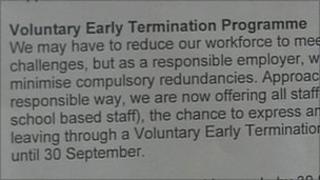 Up to 1,400 people could lose their jobs at Hull City Council over the next 18 months.
The council said the jobs would go as it tried to adjust its budget after a £50m cut in government funding in the next financial year.
The job cuts, affecting both full-time and part-time staff, are equivalent to 900 full-time posts.
A further 312 jobs are also at risk, as the council reviews a number of posts which are currently vacant.
A confidential council document states 52 vacancies could be scrapped and 260 vacant roles that have been unfilled for over six months will be reviewed, bringing the total number of potential job losses to more than 1,700.
The council said that more than 1,100 workers have expressed an interest in taking voluntary redundancy.
Of those, 100 have already left the council.
However, council leader Carl Minns said he could not rule out the possibility that there would be some compulsory redundancies.
"In an authority as large as Hull City Council you cannot say... there won't ever be a compulsory redundancy; that has always struck me as a ludicrous thing to say," he told BBC News.
"But what I can say is we don't do this lightly.
"I didn't come into politics to kick people out of work, to kick people out of their jobs."
'Big problem'
Mr Minns said about half of the £50m savings would fall on back-office staff and another £9m would be achieved by merging or closing council buildings and tailoring opening hours to demand.
Mike Adamson from the Unison trade union said the job cuts at the council would have a wider effect on the city's economy.
"Hull's not exactly thriving with jobs anyway and the local economy is not a healthy economy at this moment," he said.
"What we're going to do is just add to that big problem.
"Let's be honest, it's not just going to hit public sector workers, it's going to hit the private sector.
"You've also got to think about the retail trade, the entertainment, leisure, all that is going to be hit in Hull."