Bus services across Hull are suspended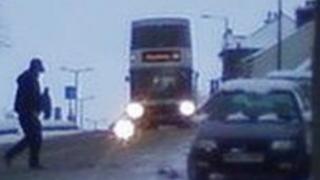 Bus services run by Stagecoach and East Yorkshire Motors in Hull were cancelled on Thursday evening because of the severe weather.
And dozens of passengers arriving at the city's Paragon Interchange found the building closed and had to queue for taxis.
Bob Rackley of East Yorkshire Motors said the conditions were too icy.
More than 200 schools in East Yorkshire and northern Lincolnshire were closed as snow disrupted roads and rail.
Strong winds and snow overnight left deep drifts on roads in the Scunthorpe area, council highways chiefs said.
Mr Rackley told BBC News: "The problem we've had is the amount of ice on the roads.
"The problem is not only faced by the bus drivers, but other drivers on the roads in terms of getting safely to our destinations.
"It's unfortunate, it's the last decision we'd want to make, but the conditions are such that we've had to do it."
Flights remain suspended at Humberside Airport until 0730 GMT on Friday with passengers urged to contact airlines.
The weather has brought travel disruption with hazardous driving conditions due to ice on many roads.
Earlier drivers were unable to join the M62 to Hull from the M18 due to repairs and the A1033 was closed between Withernsea and Hull.
Hull University said all meetings and classes at its Hull campus had been cancelled because of health and safety risks.
Depleted salt stocks
South of the Humber, a North Lincolnshire Council spokesman said: "Staff have spent a further 24 hours battling this unprecedented early winter weather.
"Gritters and snow ploughs are operating around the clock in an attempt to keep the main principal road network together with our other major arterial routes, open and clear.
"Our 24-hour-a-day operations have been ongoing now for over a week and we have spread a quarter of our salt stock which we were hoping to last us the whole winter. Further replenishment deliveries are on order."
Contractors and farmers had been helping the council with snow clearance operations.
Drifting snow also caused problems on the A1077 Ferriby Hill, Mortal Ash Hill, the A15 northbound carriageway, and the B1211 at Ulceby.