Heavy snow in Grimsby causes gridlock on roads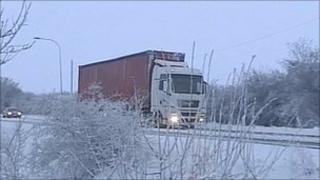 Heavy snow was causing major problems on roads in the Grimsby area on Tuesday night, police said.
Several hours of continuous snowfall left three major routes into the town almost completely blocked.
The A180 westbound and Laceby bypass both had only one lane clear, while the Peaks Parkway was described by police as "gridlocked" towards Waltham.
"People are currently abandoning cars at Waltham Toll Bar roundabout," a Humberside Police spokesman said.
An accident on the A18 at Laceby bypass resulted in the closure of the A18 between Laceby Roundabout and Ashby Top.
The weather has also caused North East Lincolnshire Council, which covers Grimsby, Cleethorpes and Immingham, to temporarily suspend rubbish collections.
Warning to drivers
There were major problems on Bridges Road in Scunthorpe with reports of lorries getting stuck while trying to get up the icy hill.
North Lincolnshire Council was working to get the road gritted again, police said.
A 30mph speed restriction was imposed on the Humber Bridge due to the adverse weather.
Earlier in the day, snow and ice had led to the closure of 10 schools in East Yorkshire.
Garrowby Hill, near Driffield, was closed on Tuesday because of heavy snow.
The A166 in East Yorkshire is passable but drivers were being warned to take care.
A Humberside Police spokesman said: "We are urging anyone travelling around the region to be cautious allowing extra time for their journey.
"The predictions are that these current weather conditions could be with us across the region for the next few days.
"Some parts of the region have been experiencing both rain and snow which can make driving conditions very dangerous."