Bridlington's help for fire deaths family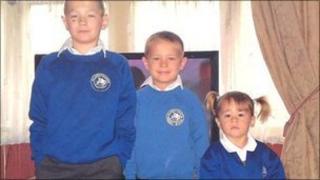 The uncle of three children who died in a house fire in Bridlington has spoken of the town's support for the family on the eve of the siblings' funeral.
Three-year-old Maddie Hudson, Anthony Hudson, five, and William Beale, nine, died in the blaze in Clarence Avenue, on 11 November.
Hundreds of people are expected to attend their funeral at Emmanuel Church in Cardigan Road on Tuesday afternoon.
Their uncle, Peter, said: "It's like one big family's come together."
His sister Samantha remains critically ill in Scarborough Hospital and is still unaware of her children's deaths.
'Big void'
On Monday, church staff and volunteers gathered to clear snow and ice from outside the church.
Mr Hudson said that was an example of how the town had rallied to help the family since the tragedy.
"If their feelings gave heat off it would melt the snow away," he said.
"They've been brilliant. It's like one big family's come together, the whole of Bridlington.
"They were such lovely little children that that they've touched a lot of people and they've left a very big void in a lot of people's lives and we're filling it in any way we can with happy memories of them.
"It's touched so many people and their sympathy is something of a comfort."
At the family's invitation, the mourners at Tuesday's funeral service will include members of the emergency services who attended the fire.
Police have said there is nothing to indicate it was anything other than an accident.