Northern Lincolnshire Hospitals face 350 job cuts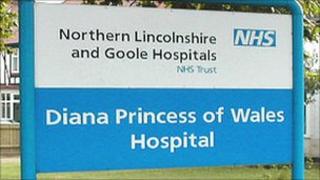 About 350 jobs are to be cut at hospitals in Grimsby, Scunthorpe and Goole because of a savings shortfall.
The Northern Lincolnshire and Goole Hospitals Trust needs to cut costs by £15m a year for the next three years.
However, the trust said it had become apparent that measures already in place would only deliver about £5m a year.
"The additional savings needed to secure a recurrent financially stable position equate to approximately 350 members of staff," the trust said.
That would cut the pay budget by about £10m a year - enough to bridge the savings gap.
A trust spokesman said: "National funding decisions mean the trust needs to make savings of around £15m per year for the next three years, and plans across the NHS in the region have not delivered the level of savings expected."
'Vital' measures
Chief executive Karen Jackson, who was appointed in September, said it was "vital" that the trust, which employs about 6,500 people, was put on a secure financial footing by 31 March, the end of the financial year.
Posts would be reduced by restructuring management, limiting recruitment to clinical services only, natural wastage and an extension of a voluntary release scheme.
"Where possible we will try to ensure that any job losses are voluntary," said Mrs Jackson.
"We will work with staff-side organisations to ensure that services to patients and providing high quality clinical care are the priority and that any compulsory measures are kept to a minimum."
The review of management arrangements will be published in the New Year and consulted upon with staff before being implemented.