Removal plan for creeping Cleethorpes beach marsh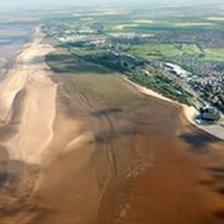 A plan has been agreed that will put a stop to the spread of salt marsh on a North East Lincolnshire beach.
Local residents and businesses fear the marsh on Cleethorpes beach could affect tourism if it is not contained.
Environmentalists say the marsh, which is protected under UK and European law, must be preserved.
The grass will be removed from the section of beach north of Cleethorpes leisure centre, but will be allowed to spread south of that point.
The management plan has been agreed by North East Lincolnshire Council and conservation organisation Natural England after months of negotiations.
Councillor Peter Burgess, the council's portfolio holder for the environment, said: "I am delighted to say that all parties have agreed a way forward that will mean we can begin to control the spread of the salt marsh along the beach, north of Cleethorpes Leisure Centre.
"This will be done through manual removal of the grass in this area whilst the salt marsh will be left to continue to grow south of this area in order to respect the biological diversity of the Humber estuary.
"It means that we are able to secure the future of Cleethorpes' tourism industry for the millions of visitors that come to enjoy our sandy beaches, but also it means that we can preserve our natural sites that attract an amazing amount of biodiversity."
Related Internet Links
The BBC is not responsible for the content of external sites.