'Legacy' hope for former media centre in East Yorkshire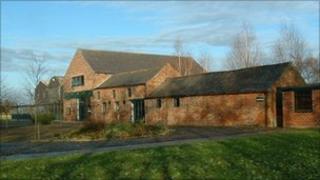 The owners of a former television, radio and stage training centre say they hope its founder's legacy will continue once the building is sold.
John Quinlan and Steve Hazell have put the ARTTS International in Bubwith on the market for £1m.
Used by the Advanced Residential Theatre & Television Skillcentre (ARTTS) International, the site had a worldwide reputation.
The facility was established by ex-BBC film producer John Sichel in 1990.
The multi-discipline film, television, radio and stage training centre was designed to allow students to live and work together.
'Boundless potential'
The centre ran for 15 years until Mr Sichel's death in 2005, during which time over 500 students trained there.
The current owners, John Quinlan and Steve Hazell, said: "We would dearly like the legacy of John Sichel to be maintained.
"But, whoever decides to buy this amazing set of buildings, they will be investing in a development with a great history and boundless potential."
Among the centre's alumni are Bruce Byron, who plays Terry Perkins in The Bill, Jon Sen, an acclaimed British film director, and Adrian Pang, a leading Asian actor and television presenter.
Within the Victorian buildings, the facility boasts a 200-seat theatre, three television studios and a radio studio.
Accommodation blocks provide 54 bedrooms, as well as kitchen and lounge facilities.
The centre is being sold with planning permission to convert the existing buildings into 14 houses and two offices.