Humber Bridge toll rise bid prompts public inquiry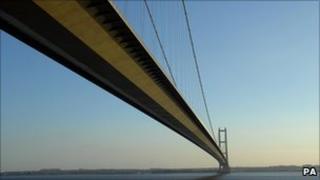 The government has ordered a public inquiry after proposals were put forward to increase Humber Bridge tolls by as much as 11%.
The bridge board has applied to the Department of Transport to raise tolls from next April to maintain the structure and repay the bridge's debt.
A car toll would go up from £2.70 to £3.00 with the highest charge rising from £18.30 to £20.30.
Hull and Humber Chamber of Commerce said it would oppose the application.
Last year the government refused a bid by the bridge board to increase tolls from £2.70 to £2.90 for cars.
A fresh application has now been made but a public inquiry has been ordered by the government because of the likelihood of objections.
Transport minister Norman Baker said: "We know there is a great deal of interest in the tolls on the Humber Bridge and that a variety of individuals, businesses and local groups are likely to have views on the bridge board's proposals.
"It is only right that any parties with an interest are able to put forward their objections at a public inquiry."
Richard Kendall, from Hull and Humber Chamber of Commerce, said increasing the tolls would restrict business.
"Increasing the tolls at any time would be bad news for the economy, but an increase now when we are not far into a tentative recovery would be damaging.
"The evidence on the tolls is very clear: they are holding back our economy by restricting the movement of people and goods.
"Without them the Humber would be more competitive and there would be more opportunities for the people and businesses here."
Councillor David Gemmerll, chairman of the Humber Bridge Board, said: "It is necessary to increase the tolls to these levels to enable the board to continue to maintain the bridge structure and repay the debt owing to the government.
"This is only an inflationary increase and the tolls have not increased since 2006."