Council workers protest over cuts in Hull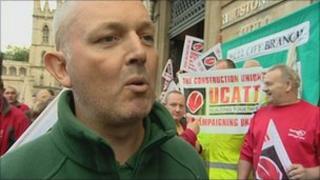 Dozens of council workers and former Connaught employees have demonstrated outside Hull's Guildhall in a protest against proposed cuts.
Thousands of council staff have been asked to consider voluntary redundancy ahead of October's government spending review.
More than 100 Connaught employees in Hull were made redundant when the contractor collapsed.
The council has warned workers cuts could be as deep as 30%.
Speaking outside the Guildhall, council worker Julia Connor said: "It is not the fault of public sector workers - why we are in this situation? It is the fault of the bankers and their policies.
'No jobs'
"I just feel that the people that deliver this service to the general public are being cut back and cut back."
Fellow council employee Alan Brooks said he hadn't known morale so low. He said: "We are worried for our families and futures, there's mortgages to pay, Christmas is coming up and there's no jobs out there."
When the "early termination programme" was announced at the beginning of September, Hull City Council leader Carl Minns said he was preparing for a worst-case scenario of 25-30% cuts.
He said: "The cuts are going to be big and they're going to be deep, but the important thing is to make sure our front line services continue."
The workforce has been given until 30 September to express an interest in voluntary redundancy.