Health authority backs £19m Beverley hospital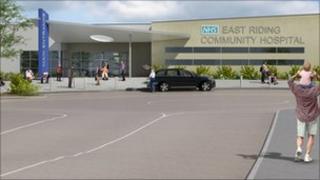 Plans for a new £19m community hospital in Beverley have been approved by the Yorkshire health authority.
The East Riding Community Hospital at Swinemoor Lane will replace the town's ageing 12-bed Westwood Hospital.
The health authority's backing secures capital funding for the development to go ahead.
It comes after proposals for the hospital were granted by East Riding of Yorkshire Council's planning committee in August.
'Last step'
Supporters of the plans have said the current hospital is inadequate.
Concerns have been raised from the Beverley Civic Society and Yorkshire Wildlife Trust about traffic and environmental impact.
Ivan Ellul, chief executive of NHS East Riding of Yorkshire, said: "Securing approval at regional level for our full business case, and the necessary capital funding, was the last step in the process.
"Very soon people will start to see the construction take shape and the new hospital become a reality."
The hospital is expected to open in 2012.