North East Lincolnshire 'lion's mane' jellyfish warning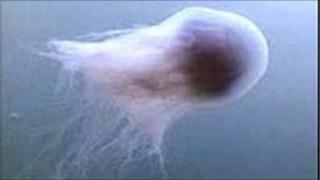 Visitors to North East Lincolnshire's beaches have been advised to be aware of stinging jellyfish.
North East Lincolnshire Council's beach safety team said a number of jellyfish had been washed up along the tide line on Cleethorpes beach.
The jellyfish look very similar to the Lion's Mane or Winter Jellyfish (Cyanea Capillata), the council said.
It said its sting was moderately painful and could cause a burning or prickling sensation.
Councillor Leanor Pidgen, portfolio holder for culture, leisure and tourism, said: "The council would advise people not to touch any of the jellyfish and make sure children are supervised and pets are controlled at all times."
The Lion's Mane Jellyfish is just one of many different types of jellyfish that can be found along the UK coast.
The Marine Conservation Society collects jellyfish sightings, which are then recorded on their website.
If stung people are advised to seek medical assistance immediately.