Thieves steal giant Philip Larkin toad in Hull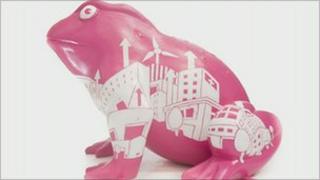 One of 40 giant toads which appeared on the streets of Hull to mark the 25th anniversary of the death of poet Philip Larkin has been stolen.
The Magenta toad is thought to have been taken from the Meltonwest business park over the weekend.
The toads were installed across the city in July as part of an arts project devised in honour of Larkin's poems Toads and Toads Revisited.
The toads are to be auctioned off for charity later this month.
Claire Huby, the Toads project manager, said: "Whoever came to take it came prepared, it wasn't a case of just unscrewing it and lifting it off, they will have had to have had some special tools to take it away and would have had to spend some time doing it.
"I am hoping that either the people who took it will have a rethink and realise how much harm they're doing by taking it or that some civic-minded neighbour will let us know its location.
"A joke's a joke and we would like our toad back now please."