Hull IVF unit innovation is to be rolled out across UK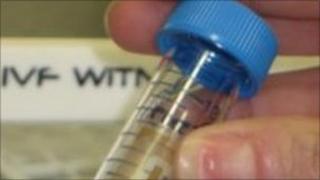 Technology used in fertility treatment which has been adopted by Hull's IVF unit is being rolled out across the rest of the UK.
The unit has also been nominated for a national award for use of the technology.
The technology lessens the risk of a mix up when the sperm and egg are put together by activating an alarm.
It was designed following highly publicised adverse incidents across the UK.
The unit said IVF mix-ups were rare but in recent years there had been four "highly publicised serious adverse incidents" in UK clinics.
It said two involved incorrect identification of sperm samples and resulted in the live birth of twins.
As a consequence the Human Fertility and Embryology Authority (HFEA) - the UK's independent regulator overseeing the use of gametes and embryos in fertility treatment and research - introduced a requirement for all movement of sperm, eggs and embryos during any clinical or laboratory process to be witnessed to prevent mismatches.
'Invaluable reassurance'
The technology works through a tracking process ensuring that the resulting embryo is transferred to the correct patient.
If at any time the wrong samples are introduced, the system warns the laboratory personnel both visually and audibly.
A spokeswoman for the unit said: "The system provides an invaluable reassurance for patient's nurses and embryologists alike."
The clinic, which is based at Hull Royal Infirmary, has been nominated for the Best Use of Technology category at the the Independent Health Care Awards. The winners will be announced on 14 September.
According to the Hull IVF Unit 37,000 women undergo fertility treatments in the UK every year.