Severed deer heads found in East Yorkshire ditch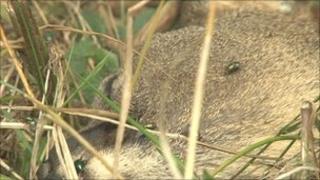 The severed heads of deer and foxes have been discovered in a ditch on a country lane in East Yorkshire.
Seven deer heads and three fox heads were found in Swine Lane, Ganstead, near Hull on Thursday morning.
Police suspect poachers may have dumped the heads after storing them in freezers, possibly since last winter.
A Humberside Police spokesman said: "If anyone is identified as being responsible for this then we will be taking severe action against them."
Speaking as officers examined the scene, he said: "If they've been poached by dogs or caught in snares or taken illegally from the farmland then Humberside Police will take a very dim view."
Deer expert Ian Donaldson, who works for East Riding of Yorkshire Council, said he believed the deer had been killed in the winter and kept in cold storage.
"I think this is a freezer stash,"" he told BBC News.
"These are winter deer and they don't come into their winter coat for another couple of months.
"It's just fun to the poachers, but it's cruel for these animals.
"It's absolutely disgusting how they've just abandoned them in a ditch in a country lane. It's not acceptable."
Dog walker Keith Preston who alerted the police after making the discovery on Thursday morning, said: "It makes me feel absolutely sick."