Hull's Larkin toads attacked by vandals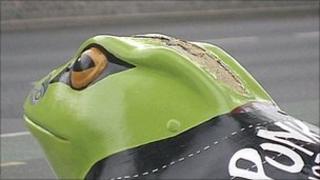 Vandals have attacked several model toads which appeared on the streets of Hull to mark the 25th anniversary of the death of poet Philip Larkin.
The toads were damaged only days after 40 were installed around the city centre last week.
The arts project was devised in honour of Larkin's two poems 'Toads' and 'Toads Revisited'.
Humberside Police said they were reviewing CCTV images to help track down the culprits.
Vandals struck near Hull Truck Theatre where one toad resembling a punk rocker had its mohican ripped off.
Outside the city's railway station another toad depicting an astronaut was also vandalised.
Repair work is now under way to make the Larkin toads more resilient.
Artist Liz Dees, who created the punk toad entitled Punkphibian, is fashioning a new mohican from red plastic cable ties secured to a metal plate.
She said: "There's no way we're going to be beaten.
"I'm going to make this even more vandal-proof and hopefully I'll make sure it can't be destroyed."
Vicky Bissett, a director of community arts group ArtLink which supported the project, said: "We've generally had a super response from the public.
"People are going around photographing all the toads and they're quite keen to get all 40.
"There's been a real enthusiasm for the toads."