Crowds cheer Queen's Baton Relay in Hereford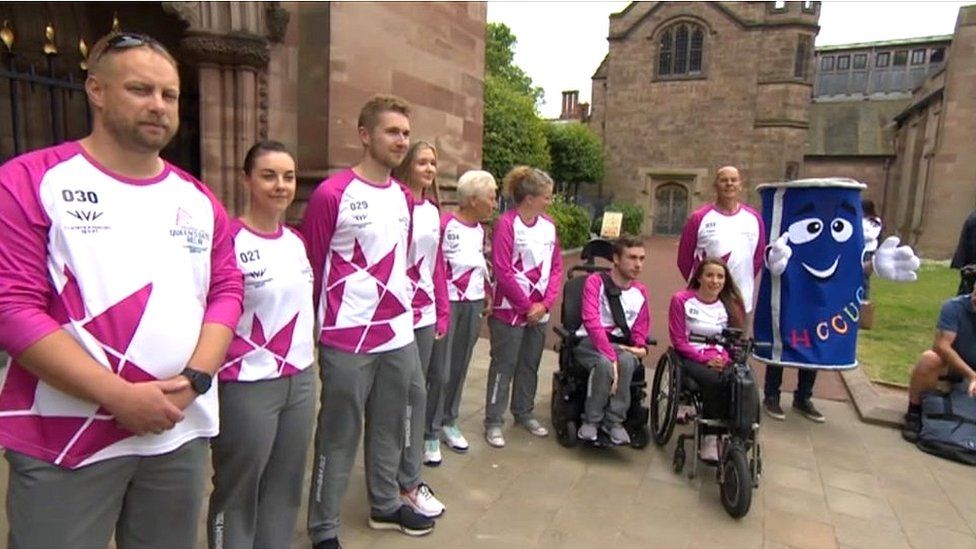 The Queen's Baton Relay has been touring Hereford, 23 days before the Commonwealth Games begin.
Nine people were selected to carry the baton in front of residents who gathered at Hereford Cathedral for the start of the route in the city.
Paralympian Josie Pearson MBE, from Herefordshire, who won gold at the 2012 Games, said she had a fantastic time being cheered on by the crowds.
The baton did a loop of the city before travelling to Gloucester by canoe.
Ms Pearson, who carried the baton between St Martins and Victoria Bridge, said children were among crowds that lined the streets and everyone enjoyed the atmosphere.
She said it was inspiring for children to see the relay, but also hoped it encouraged anyone to take part in sport.
"It was fantastic," she said, adding it was "a really well-organised event and an amazing atmosphere".
"There were a lot people cheering us on."
After competing in front of home crowds in 2012, she was excited for the Games athletes to have the same experience.
"Having home support, there's nothing quite like it.. it's so motivating competing in front of a home crowd," she said.
The baton will revisit the West Midlands for 18 days from 18 July.
The baton ends its 294-day journey in Birmingham on 28 July, in time for the opening ceremony.
Speaking before the event, Cameron Wood, 25, who has been a voice for disabled and young people, said it was an "honour" to be involved and the "icing on the cake" after carrying the Paralympic flame in 2012.
Mr Wood, of Hereford, was 16 when he was the county's torchbearer for the flame.
He was looking forward to his family seeing him with the baton on Tuesday.
Mr Wood, who has cerebral palsy and is visually impaired, set up the Young Person's Network to speak up for youngsters in their dealings with the NHS and other bodies.
"What I found is that young people want to be treated like adults, they want to go to medical appointments on their own," he said.
"What happens is parents and guardians become the voice for their children," he said.
His work has also included trying to improve accessibility for wheelchair users in Herefordshire, explaining that improvements such as dropped curves give young disabled people more independence and improve their "quality of life".
Ash Winter, 40, was also nominated because of his inspirational work.
Mr Winter, who is visually impaired because of keratoconus, has raised awareness and money for Fight for Sight through a book and adventures, including Arctic expeditions and triathlons.
"I took it upon myself to try and do things out of the ordinary to try and inspire others with the condition who were diagnosed at a younger age," he said.
"To be part of the baton journey, it's just a wonderful experience," he added.
Related Internet Links
The BBC is not responsible for the content of external sites.