Mum told to stop breastfeeding at Kidderminster Sainsbury's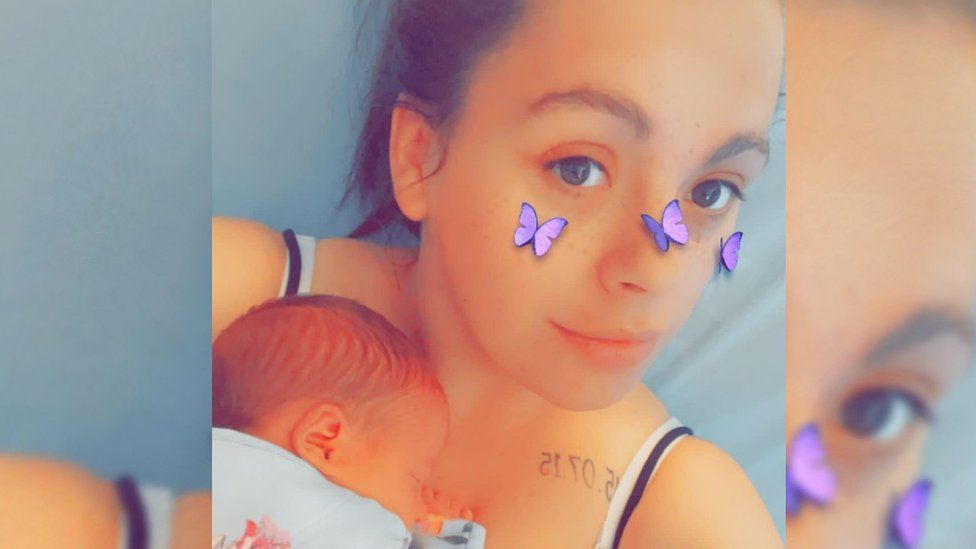 A mum was left in tears after supermarket staff told her to stop breastfeeding her daughter in her car.
Beth Coles, 25, took her baby Rosie for a feed when she became agitated in Sainsbury's in Kidderminster.
She said she "just burst out crying" when an employee knocked on her car window and told her she was being "inappropriate".
Sainsbury's offered its apologies in a statement for Ms Coles' "unacceptable experience".
Ms Coles said the family had visited the shop on Friday evening on their way home from a day with her in-laws.
"We walked in and started doing our shopping, then our four-week-old child started crying," she told BBC Hereford and Worcester.
"I didn't want her to kick off in the store and didn't want to use their changing rooms so decided to take her out."
She said she was covered in a blanket when she saw a female employee "making a bee line" for the car before knocking on the window.
"I opened it, thinking maybe I've dropped something, and she says 'can you not do that please, I think it's inappropriate'.
"I had no response, I just burst out crying."
Ms Coles said the experience had left her not wanting to leave the house and made her conscious about breastfeeding.
"I just want to give it up," she said. "If that's the reaction from people that are supposed to be encouraging young mums, why bother?"
Women are encouraged to breastfeed and asking someone to leave a public place for breastfeeding is illegal.
"What people need to understand is the emotional impact of strangers observing and shaming you for breastfeeding - it's massive," she said.
"[Ms Coles] did everything she could to make other people feel comfortable, which isn't your job as a mother, but she did that and yet this person felt it was OK to police her body when she's doing the most natural thing and feeding her baby.
Sainsbury's insisted breastfeeding was welcome in its stores. A spokesperson said it was investigating and would deliver further training.
In a statement, it said it had apologised to Ms Coles, who welcomed the apology.
Related Internet Links
The BBC is not responsible for the content of external sites.