Colourful 'espresso shot' artwork goes on display in Hereford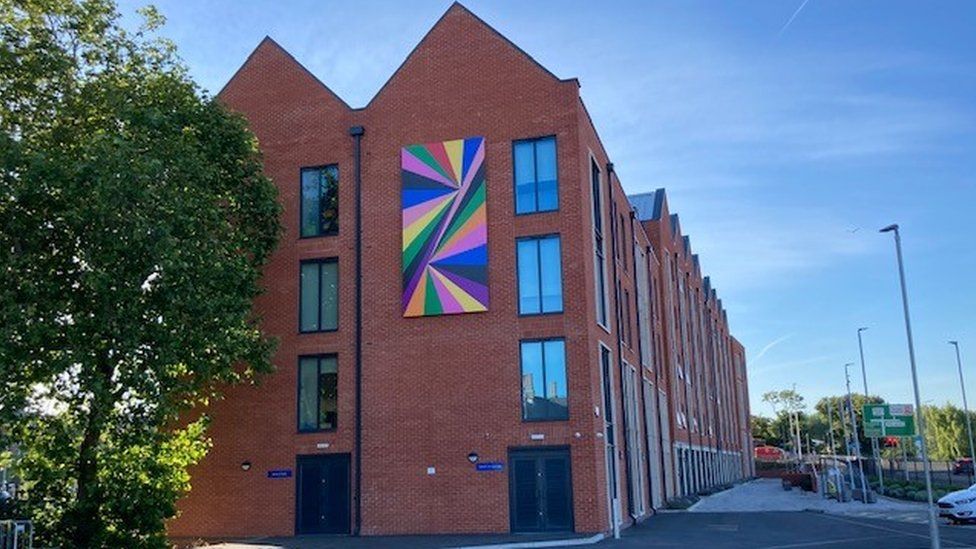 The first of four new pieces of public art has gone on display near Hereford railway station.
Artist Lothar Gotz has created the large mural that has been put up on the side of a nearby block of student accommodation.
Three more artworks will be displayed in the city over the next four years as part of a wider project sharing £22m from the Stronger Towns Fund.
Mr Gotz said he loved colour and hoped it would "wake people up" each morning.
"It's a bit of a present of artwork for people who are probably stuck in their cars on the roundabout," he said.
"It's a bit like an espresso shot," Mr Gotz said.
He said part of the idea behind the artwork was that "it's not clear what it is".
"It's on the wall and people might notice it and it just gives a bit extra to the few minutes in the car," he said.
Anne de Charmant, artistic director at Meadow Arts, which was involved in the project added: "It's designed to have impact and have the zing and actually tell people coming to Hereford, this is not a boring town.
A second piece by Mr Gotz, who has previously been commissioned for projects at the South Bank Centre in London, Leeds Art Gallery and Towner Art Gallery in Eastbourne, will go on display before April 2023 at Hereford College of Art.
Related Internet Links
The BBC is not responsible for the content of external sites.