Worcester: Events to mark Gheluvelt Park centenary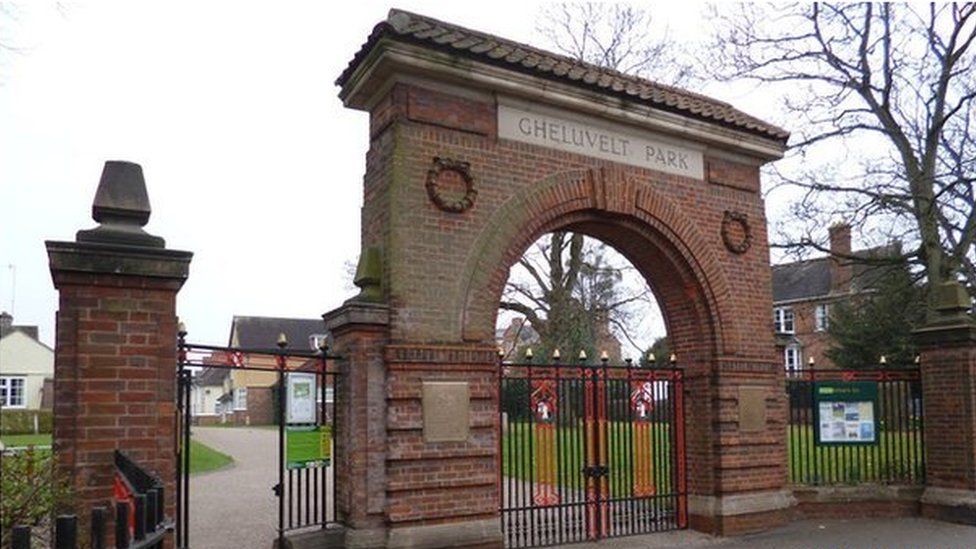 Worcester's Gheluvelt Park - created as a permanent memorial to those lost in World War One - reaches its centenary on Friday.
The park was opened by 1st Earl of Ypres, Lord French, on 17 June 1922.
It was given its name in honour of the bravery of the 2nd Battalion The Worcestershire Regiment in October 1914 in Gheluvelt, Belgium.
The memorial has since honoured all locals who have fallen in subsequent conflicts.
Some of the events planned for Friday and Saturday include a presentation on the Battle of Gheluvelt, explaining its importance in the early stages of the War, as well as council officials talking about the history of the park.
Wreaths will be laid as well as a minute's silence being held, with a tree also planted to mark the occasion.
Battle of Gheluvelt, 1914
The battle was part of the First Battle of Ypres - a key early conflict of the War as Belgian, British and French forces tried to repel the advancing German armies
On 31 October about 370 men from the 2nd Worcestershire Regiment were instructed to retake the village of Gheluvelt, Belgium, which had been taken the day before
At 14:00 the regiment began the counter-attack, barraged by German artillery
The infantrymen charged and retook Gheluvelt
187 men were killed or wounded but they stemmed the Germans' progress
Related Internet Links
The BBC is not responsible for the content of external sites.