Ex-footballer Colin Gibson urges testing after dementia diagnosis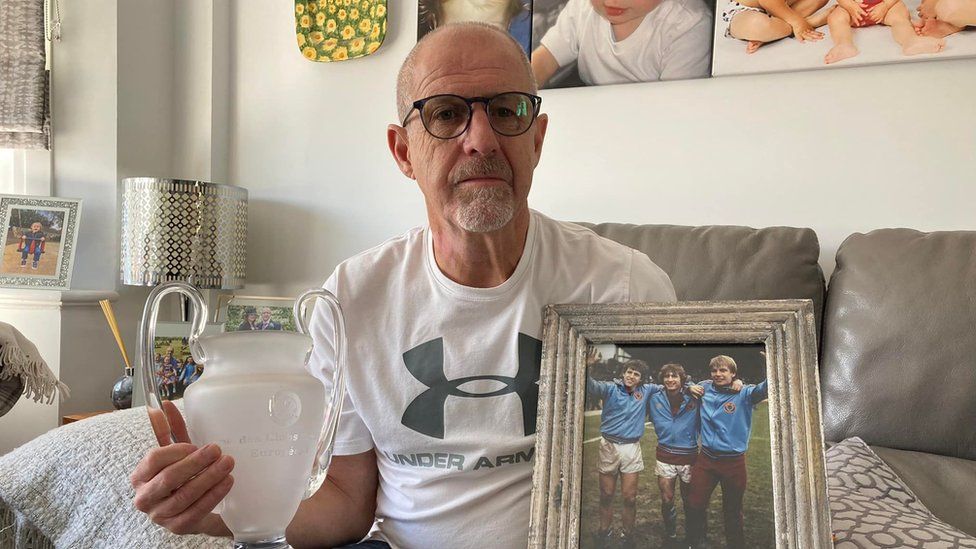 Former footballer Colin Gibson has urged people to get tested after being diagnosed with early-onset dementia.
Mr Gibson, 62, part of the Aston Villa team that won the old First Division in 1980-81, was diagnosed in November.
He said he chose to go public with his condition to help raise awareness.
Mr Gibson, who lives in Worcester and also played for Manchester United, said by getting his diagnosis early, he was on medication that helped to slow the condition.
"At least you know what you are dealing with, rather than just being sat there in the dark," he said.
The Alzheimer's Society says in the UK there are more than 40,000 people living with dementia before the age of 65, otherwise known as early-onset dementia.
The former Leicester City, Blackpool and Walsall footballer said the process towards diagnosis began when his wife, Kim, noticed something was not right.
Mrs Gibson said: "He would go out in the car to [get] some dog food and he would be down the bottom of the road or something and then he'd be back in five minutes and [say] 'you know I can't even remember where I was going'."
A scan later led to his diagnosis.
According to research in 2019, former professional footballers are three and a half times more likely to die with dementia than people of the same age range in the general population.
The condition in ex-players has been highlighted in recent years by Dawn Astle, the daughter of former England and West Brom striker Jeff Astle, who died in 2002. A neuropathologist said Mr Astle died of a brain condition normally linked to boxers and caused by heading footballs.
In May, when Mr Gibson revealed his condition, he thanks Ms Astle for her support in his decision to go public.
"There will be just little things I will forget," Mr Gibson said.
"There is a lot of stigma to it, a lot of people put their head in the sand and the sooner we can get something done about dementia, I know there is never going to be a cure... but you can slow it down."