Redditch couple 'not told' of AstraZeneca rare clot risk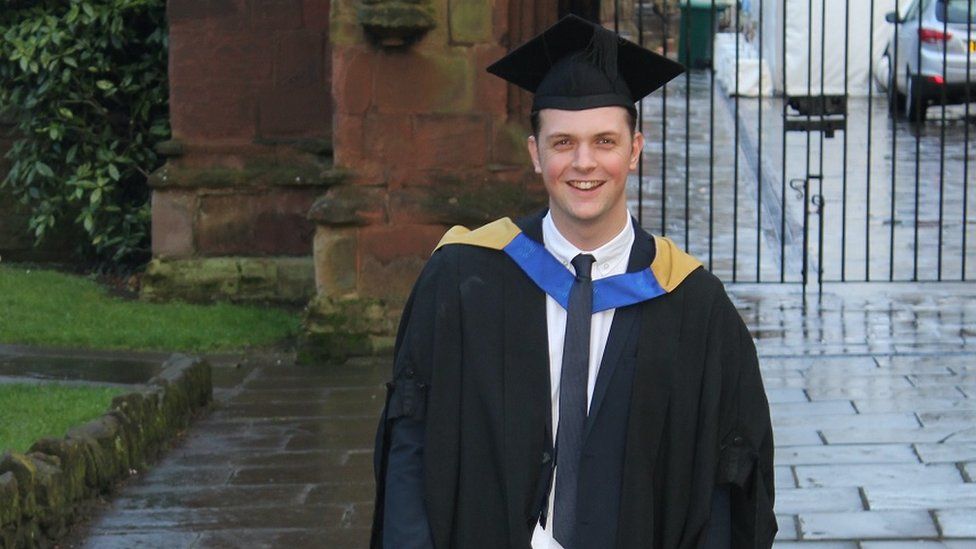 The girlfriend of a man who died nearly two weeks after having the AstraZeneca jab told an inquest into his death they were not warned of its potential risks.
Jack Hurn, 26, of Redditch, died on 11 June 2021 after developing blood clots on his brain.
Alex Jones told Birmingham Coroner's Court he decided to have the vaccine as the Dudley clinic had run out of Pfizer.
She said the whole process at the clinic on 29 May was "very rushed".
At the time, people under 30 in the UK had begun being offered alternative Covid vaccines to AstraZeneca due to evidence linking it to rare blood clots.
The recommendation followed a review by the UK drugs regulator that found 79 people suffered the rare condition after the vaccination, 19 of whom died.
But it said this was not proof the jab had caused the clots.
The coroner was told Mr Hurn fell ill following his first Covid jab.
Ms Jones said when they heard there was no Pfizer available, they had at first mulled over going away and rebooking at another clinic that was offered to them.
They raised concerns about AstraZeneca but said the doctor only mentioned side effects adding "at no point did she tell us the blood clots could be life-threatening".
Ms Jones said they were also not told about the possible risk of blood clots on the brain.
She was questioned by a solicitor representing GPs who said clinic staff had a different recollection of events and said they were told about the potential risks.
Jack's mother Tracey Hurn told the inquest she had worried when her son got headaches afterwards.
"I didn't think for one minute that he'd have the AstraZeneca jab," she said, adding: "When he said 'I've got a headache' alarm bells started to ring. I said call 111 if it gets worse, don't leave it".
Mr Hurn, originally from Devon, was an automotive design graduate who studied at Coventry University.
The family's law firm Manby Bowdler said he begun suffering headaches "within days" of the vaccine.
His family have raised concerns about the advice he was given and his hospital care and are taking legal action.
They hope the inquest will "answer some of the questions they have around Jack's death," the law firm added.
The inquest is expected to last three days.
Related Internet Links
The BBC is not responsible for the content of external sites.