Worcester acid attack dad 'obsessed' with custody row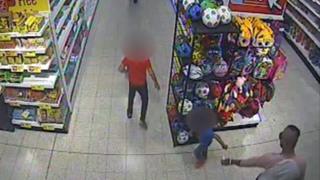 A father said to have organised an acid attack on his three-year-old son was "obsessed" with the outcome of family court proceedings, a court heard.
He and six others deny being involved in the Worcester Home Bargains attack on 21 July 2018, where the boy suffered serious burns.
Worcester Crown Court was told the man planned to "mark the child" in a bid to win back his estranged wife.
The 40-year-old said: "I would never talk about my children like that."
Prosecutors allege the father, who cannot be identified, "enlisted others" to attack the youngster, after his wife left him, taking the children, in 2016.
He stands trial alongside Adam Cech, 27, of Farnham Road, Birmingham; Jan Dudi, 25, of Cranbrook Road, Birmingham; Norbert Pulko, 22, of Sutherland Road, London; Martina Badiova, 22, of Newcombe Road, Handsworth, Birmingham; Saied Hussini, 42, of Wrottesley Road, London, and Jabar Paktia, 42, of Newhampton Road, Wolverhampton.
On his third day giving evidence, Mr Hussini's barrister Lauren Soertsz said the father had claimed if the woman lost the custody battle, she would be forced to abandon her divorce proceedings.
But the father said that was "not the truth".
The father also denied showing Mr Hussini a badminton racquet, kept in his car boot, adapted to have a "knife blade" in its wooden handle, which could be used to "mark" the child.
Jurors heard a court hearing to determine custody for the children had been set for 13 June, but was postponed.
A social worker's report had then granted custody in favour of the mother.
Miss Soertsz put to the father that he had told Mr Hussini he had that week to harm one of the children.
She alleged the father had gone with Mr Paktia and Mr Hussini to meet Mr Pulko, who first suggested using acid.
But the father denied knowing Mr Pulko.
She alleged her client's account was that the father then sourced the acid ahead of a previous aborted attack on 13 July, which he also denies.
The trial continues.
Follow BBC West Midlands on Facebook, on Twitter, and sign up for local news updates direct to your phone.