David McGreavy: Mum fears triple child killer could strike again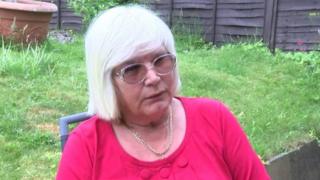 A man cleared for release from his sentence for killing three children and impaling their bodies on railings could strike again, their mother has said.
Elsie Urry's children, Paul Ralph, four, Dawn, two, and nine-month-old Samantha were killed by David McGreavy at their Worcester home in 1973.
McGreavy has been cleared for release from prison after more than 45 years.
Ms Urry criticised the Parole Board for "not listening" and said she was told he would go to prison for life.
"Therefore, it should mean life," she added.
Ms Urry, who now lives in Hampshire, told BBC Hereford and Worcester: "There is nothing to say that this man won't do something like this again and I'd hate to think that anyone would have to suffer again like how I have had to suffer for the rest of my life."
She said her marriage broke down after her children were murdered and said McGreavy continues to make her suffer.
"It split up my marriage, I lost my home. I wasn't allowed to go back into my house, I had to live with that," added Mrs Urry, who is also known as Dorothy.
"I wasn't able to have anymore children not as I would have wanted anymore children anyway because nothing could replace those that I'd lost."
McGreavy, who was dubbed the "Monster of Worcester", was 21 at the time of the murders and was the family's lodger. He had been staying with them because he had fallen out with his parents.
He strangled Paul at the home in Gillam Street, Rainbow Hill, while Dawn was found with her throat cut. Samantha died from a compound fracture to the skull.
A Parole Board report said McGreavy had "changed considerably" over 45 years in jail.
The board confirmed a panel had directed his release following an oral hearing.
Robin Walker, MP for Worcester, described McGreavy as "extremely dangerous" and said that the Parole Board's decision should be considered with "the utmost seriousness by government".
Mr Walker said he met with Justice Minister David Gauke earlier to request that McGreavy should never be allowed to visit the city.
Ms Urry said she struggles to mix with her family and their children "because it hurts me so much because I feel what would have been if my children would have been there".
"I don't go to any weddings or big parties or anything because I think what might have been," she added.
"I just don't know how to cope with it all some days."
A Parole Board document said a psychologist had identified that McGreavy had "improved self-control" and had learned to "remain calm in stressful situations".
It also said he has "a network of supportive friends in the community".
The possible release of McGreavy has been discussed by authorities for at least 10 years.
He is currently being held at HMP Warren Hill, a Category C jail near Woodbridge in Suffolk where inmates are called "residents".
The prison was recently rated the best in the country by the Prison Service and has a capacity of 258 men.