Anger at cafe's rape-accused Ronaldo biscuit 'joke'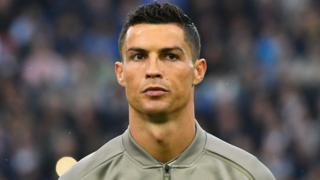 A cafe owner who sparked outrage by selling biscuits shaped to mimic rape-accused footballer Cristiano Ronaldo having sex has said he made a mistake.
Jose Goncalves, from Our Taste of Portugal in Worcester, said he may have misunderstood the English sense of humour and he had been "surprised" at the reaction.
A centre for sexual assault victims said it was "disgusted".
Ronaldo has denied assaulting Kathryn Mayorga at a Las Vegas hotel in 2009.
Lydia Johnson, a referral co-ordinator at The Glade, a sexual assault referral centre in Worcestershire, said it was never OK to make a joke about rape or sexual assault.
"I couldn't really believe it when I saw it on Facebook, I was disgusted to hear about it," she said.
"There's really no circumstance when it's ever going to be OK... it's disappointing and infuriating really to think anybody would think it was a good idea."
Mr Goncalves apologised for selling the biscuits: "It was not my intention or my business's intention to make something feel really bad for everyone."
In an earlier BBC interview, prior to his apology, the cafe owner said he had sold between 60 and 70 on Monday morning.
Mr Goncalves said most people who came into the cafe "thought it was really funny so they bought them to take to their friends and family".
You may also be interested in:
"They even told me it was a brilliant idea to do something different," he added.
However, the cafe has been widely criticised on social media.
Tracy Shenton wrote on BBC Hereford and Worcester's Facebook page: "Don't see anything about rape being funny myself, very weird sense of humour."
And Heather Whitehurst said: "I cannot believe anyone would find these biscuits funny. Very misguided".