Manhunt for rapist Bradley Tout after court escape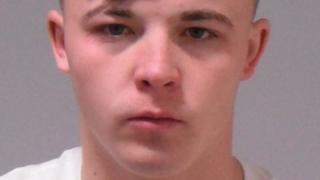 A rapist who leapt from the dock and ran out of court moments after being convicted is being hunted by police.
Jurors at Worcester Crown Court unanimously convicted Bradley Tout, 20, of an attack on a teenage girl, in December 2016.
Upon hearing the verdict, Tout "vaulted" from the dock and was able to evade court officers during a chase.
Security firm GeoAmey confirmed the escape and said one officer had to be taken to hospital with injuries.
No police officers were at court when Tout made his escape shortly after 16:00 BST on Wednesday, West Mercia Police said.
'Never seen that before'
Those present at the hearing told the BBC Tout could be seen with both hands on the 4ft-high dock shortly before he jumped over it
No action was taken to apprehend him in the courtroom, they said, and a communications breakdown meant staff did not know who to stop when a panic alarm was set off.
Tout was able to run out of the courtroom before passing security officers and running through a metal detector onto the street outside.
During an altercation outside, the court officer suffered suspected broken ribs and bruising.
According to those who were in the courtroom, Judge Nicholas Cartwright told jurors he had "never seen anything like that happen before".
Supt Paul Moxley, of West Mercia Police, said a GeoAmey court officer "did give chase" to Tout but was "unable to catch up with him".
At a sentencing hearing after his escape, Tout, of Durham Road, Worcester, was jailed for seven and a half years in his absence.
His co-defendant, Kulin Odedra, 28, from Canterbury Road, Worcester, was jailed for 11 and a half years for three counts of rape and one count of attempted rape.
The court heard the attacks happened in Tout's car after he parked behind a skip in County Hall in December 2016.
Judge Cartwright said Tout was a "manipulative liar" who treated his victim "like a sexual commodity".
"He's committed a very serious offence and now he's committed more offences by escaping from lawful custody," said Supt Moxley.
Anyone harbouring or assisting Tout "should also expect to be arrested", he said.
Police described the 20-year-old as white, 5ft 8ins, with short mousey brown hair. He was wearing a white top and dark trousers when he escaped.
Supt Moxley said he did not believe Tout to be dangerous and appealed for anyone with information to contact police immediately.