St Gilbert's abuse: Pupil 'abused more than 200 times'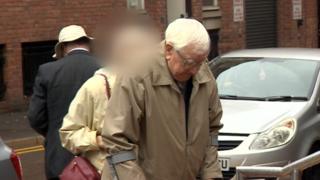 A pupil at an approved school for boys was sexually abused by its head teacher hundreds of times, a jury heard.
The claimant, now in his 60s, said David Burns began abusing him as punishment for repeatedly "absconding" from St Gilbert's in Worcestershire.
He told Birmingham Crown Court Mr Burns, who he knew as Brother Wilfred, warned him "don't tell anyone" about the abuse in his office.
Mr Burns, 87, denies 21 counts of abuse from 1966 to 1972.
The defendant, of Kings Grove, Cambridge, is facing charges including two counts of a serious sexual offence, one of indecent assault, 16 of child cruelty and two of assault causing actual bodily harm.
Another ex-master of the school Vincent Rochford, 87, of Barton Lane, Manchester, denies one charge of child cruelty and a charge of assault causing actual bodily harm.
Both worked at the defunct government-approved school in Hartlebury, Worcestershire, for boys who had committed minor crimes.
Midlands Live: JLR plant 'to move to three-day week'; Pedestrian killed in bus crash
The jury was shown film of a police interview with the claimant from 2015 and was told he was too ill to give evidence in person.
In the interview, the man said he was 14 years old when he was sent to St Gilbert's in the 1960s and the abuse began about nine months later.
The claimant said he was caned regularly after running away and the sexual abuse began when he was returned to the school one time.
He was taken into the headmaster's office where Mr Burns carried out a serious sexual assault, saying it was "in place of the cane", the court heard.
After that he was abused "every time I was brought back", he said.
He told police Mr Burns helped him get a job outside the school and asked him to come to his office after work where sexual contact between them "went on for months".
The claimant said he was under 16 at the time and brought his wages to Mr Burns. "He [Mr Burns] said to keep it a secret," he told police.
"It got to a stage where he said, 'do you fancy sex?' I said, 'yes if you want to'. He always had sex with me on a Friday."
The claimant added: "I just put up with it until I got discharged."
The trial continues.