St Gilbert's case: Head teacher 'threatened boy with typewriter'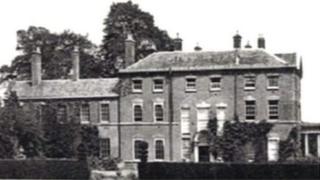 The former head teacher of an approved school for boys swung a pupil around a room before threatening to throw a typewriter at him, a court heard.
The claimant, now in his 60s, told Birmingham Crown Court he feared for his life during the incident.
David Burns, 87, the former headmaster of St Gilbert's in Worcestershire, denies 21 counts of historical abuse.
Another ex-master Vincent Rochford, 87, who is also on trial, denies two charges against him.
Both worked at the now defunct government-approved school in Hartlebury which catered for boys who had committed petty crimes.
It was run by the Catholic De La Salle Order of Christian Brothers under the governance of the Home Office.
Defending Mr Burns, Teresa Hay asked if the witness was using the opportunity to get back at the man he hated as a child.
The witness admitted he did want to get back at him, but added: "Does that mean I made up the story? No."
At one point he turned to Mr Burns in court and said: "That sweet old man is not what he was like."
The witness said he was being punished by the headmaster, who he knew as Brother Wilfred, for injuring another pupil by throwing a table tennis bat at him.
Mr Burns, of Kings Grove, Cambridge, is facing charges including two charges of serious sexual offences, one of indecent assault, 16 of child cruelty and two of assault causing actual bodily harm.
The allegations, involving 16 complainants now in their 60s, date from 1966 to 1972.
Mr Rochford, of Barton Lane, Manchester, is facing charges of child cruelty and assault causing actual bodily harm.
The trial continues.