'Carnage' as 15 deer shot dead in Wyre Forest field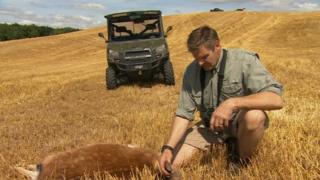 A herd of 15 deer, including fawns, have been shot and left in a field in a suspected poaching incident.
Edward Brown, who chairs the Wyre Forest deer management society, said it was "carnage".
The deer were discovered in a field on the edge of the Wyre Forest in Worcestershire on Saturday morning.
Mr Brown, who has reported it to police, said he cannot understand why the carcases had been left in the field, calling it "unbelievable".
"We've witnessed fawns coming out of the forest looking for their mother and being totally distressed," he added.
"It's horrible, it's carnage here, I've never seen anything like it."
Of the 15 carcases, three are fawns, which Mr Brown said are only a month or so old.
"Even if they were shooting for meat, why shoot a fawn? There's nothing on it, nobody's going to want that."
West Mercia Police confirmed it was investigating the incident and said the deer were found on farmland in Kinlet near the Shropshire-Worcestershire border.