Worcester bungalow murder: Adrian Jenkins gets life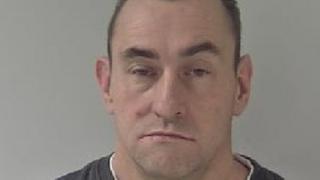 A man has been jailed for a minimum of 33 years for the "callous and cowardly" murder of his disabled neighbour.
Julie Fox suffered a blunt force head injury and was found dead in her bungalow's hallway on Carnforth Drive, Worcester, last December.
Adrian Jenkins, 44, denied the 51-year-old's murder but was convicted following a three-week trial.
Loved ones said he took the "opportunity to rob Julie of money and her life" after befriending her.
Police said he tried to cover his tracks by turning on the gas hobs of the cooker in an attempt to cause an explosion.
Ms Fox's handbag was found to be missing from the property, and Jenkins used her stolen money to pay off debts and buy Christmas gifts, Birmingham Crown Court was told.
The jury heard forensic evidence recovered from the bungalow and extensive analysis of CCTV, mobile phone and wi-fi data all pointed towards Jenkins as the prime suspect.
The victim, who had restricted mobility, was well known in Worcester for travelling on her electric mobility scooter, often with her dog in the basket on the front.
Following the verdict, Julie's brother said: "My sister Julie was a vulnerable disabled woman who was unable to defend herself from the callous cowardly attack.
"She lived alone and was befriended by Jenkins, who took this opportunity to rob Julie of money and her life.
"My mum and I would like to thank everyone who has brought this evil man to justice."
Det Ch Insp Leighton Harding, said: "Adrian Jenkins committed the most brutal murder on a defenceless, vulnerable woman and tried unsuccessfully to disguise his crime for five days whilst he carried on as normal over the Christmas period.
"He has been today found guilty of this horrific crime and this dangerous man will now face justice."