Long Lartin prison governor 'attacked by inmate'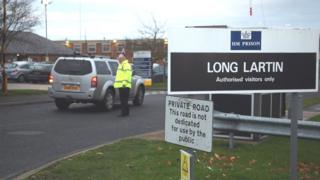 The governor of a high security men's jail had to receive hospital treatment after being attacked by a prisoner.
Clare Pearson, governor of HMP Long Lartin Prison in Worcestershire, has not returned to work following the attack a month ago.
The BBC understands Ms Pearson was hit in the face by an inmate in an unprovoked attack.
Ms Pearson took up the role of governor in November 2016 and is expected to return to work in July.
HMP Long Lartin holds more than 500 prisoners, including some of the country's most dangerous offenders.
Analysis: Danny Shaw, BBC home affairs correspondent
The case is likely to fuel concerns about violence across jails in England and Wales, which are currently at record levels - though attacks on governors are relatively unusual.
Last October, "Tornado" teams of riot officers were called to the prison to deal with a serious disturbance in which staff were attacked with pool balls.
An inspection report, published last month, acknowledged the jail had experienced several "extremely serious incidents" in recent years and said a rising number of assaults against staff was a "concern".
A Prison Service spokesperson said: "A member of staff at HMP Long Lartin received hospital treatment following an incident last month.
"They are receiving support and expected to return to work next month."