Police dog and handler 'recuperating after attack'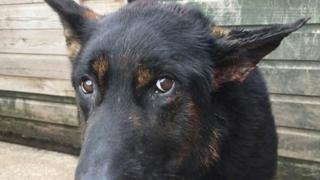 A police dog and his handler are at home recuperating after they suffered knife wounds.
PD Bacca reportedly suffered a knife wound to the left side of his head while his handler's hand was slashed, according to the Warwickshire Police and West Mercia Police Dog Section.
The dog and his handler were injured at about 03:00 BST on Tuesday in Bromyard High Street, police said.
A 30-year-old man has been charged in connection with the alleged attack.
Bacca and his handler are now recovering from their injuries, police said.
The police dog section posted the pictures on Twitter, with a force chief thanking people for their well wishes and saying both PD Bacca and his handler had "received treatment and thankfully are in recovery".
Supt Sue Thomas said: "We want to make it clear that this was an isolated incident in which a police officer and a police dog were both injured while carrying out their duties.
"They've both received treatment and thankfully are in recovery."
Mesut Olgun, from Watling Way, Bristol, has been charged with three counts of criminal damage, possessing an offensive weapon in a public place, and assaulting a person causing actual bodily harm, in relation to the attack on the officer and causing unnecessary suffering to a protected animal under the Animal Welfare Act 2006, for the injuries to PD Bacca.
He is due to appear at Worcester Crown Court on Monday 9 July.
A West Mercia Police spokesman said: "Officers would like to thank members of the public who came to police assistance during this incident."